Secretary of State John Kerry will represent the United States in an annual session of Strategic Dialogue with India, scheduled for July 31, and his visit will be followed by the Defence Secretary Chuck Hagel in early August to revitalise a relationship the US sees as crucial counterbalance in Asia to an increasingly assertive China, a Reuters report quoted US officials as saying on July 16.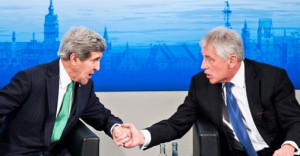 The report further states that they will be the most senior most American officials to visit India for talks with the new Government of Prime Minister Narendra Modi, ahead of his visit to the United States, slated this September.
It was at the close of the then Secretary of State Hillary Rodham Clinton's meetings with the Government of India on July 20, 2009, that the two Governments issued a joint statement regarding their intentions to accelerate the growth of their bilateral relationship to enhance global prosperity and stability in the 21st century. Both Governments had outlined a Strategic Dialogue that would focus on five principal pillars; strategic cooperation, energy and climate change, education and development, economics, trade and agriculture along with science and technology, health and innovation.
It is in line with this agreement that the annual strategic dialogue is being held ahead of the bilateral meet.
"If India and the United States are to build a truly strategic partnership, the two countries must each commit to it and defend it in equal measure", Republican Senator John McCain has said on the Senate floor on June 26, according to a PTI report.
"We must each build the public support needed to sustain our strategic priorities," he further added.
The best part of the India-US bilateral ties is that the both the major political parties in America are keen to see the relationship grow in strength. Wary of the Chinese role in geo-political conditions of Asia-Pacific zone, the United States wants to see India emerge stronger economically and politically in Asia.
According to the Reuters report, in testimony for a hearing of the US Senate Committee on Foreign Relations, Nisha Biswal, the US Assistant Secretary of State for South Asia referred to planned joint military exercises involving India, the United States and Japan, a country with a growing strategic rivalry with China in East Asia. "We see opportunities for increasing the collaboration across Southeast Asia," she said. "We are engaging more frequently in consultations and dialogue with India on ASEAN (the Association of Southeast Asian Nations) and look forward to increased and more frequent consultations across the East Asian sphere," Biswal said, adding that "A rising India is in some ways going to be an ameliorating influence on China, in China's own growth and China's own behaviour in the region."
At a time when Narendra Modi has sent clear signals to the world that his Government is committed to bring the nation's economy back on growth track, the NDA Government in India has been keen for better multilateral ties with Japan and even Russia and China, as was clear from last week's BRICS Summut.
India wants to create mutually beneficial relationship with the USA that can sustain growth for both nations as partners. United States knows that a strong democratic India is in the interest of peaceful global order. That is why these strategic dialogues will play a vital role in ironing out differences, creating road map for future growth and ensure that September end Modi-Obama talks bear maximum yield for both the nations.
Source: Niti Central