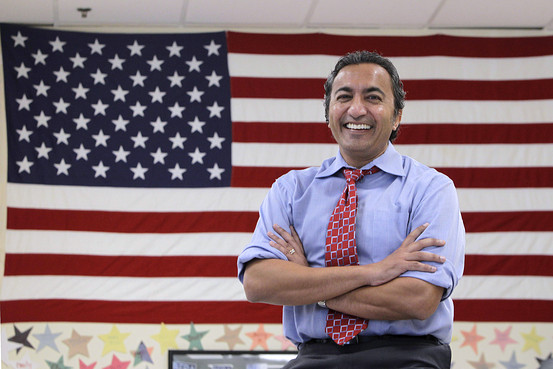 Indian-American Congressman Ami Bera has been re-elected to the US House of Representatives in one of the closest congressional races from California.
More than two weeks after the Congressional elections on November 4, Bera led his Republican rival Doug Ose by a close margin of 1,432 votes.
According to the election officials, Bera got 92,394 votes against Ose's 90,962.
Virtually all ballots have been counted. On the election night on November 4, Bera was trailing by more than 3,000 votes.
"It's been my honour serving this community as a doctor for the last 19 years. I am grateful I will have the opportunity to continue serving as the representative for California's 7th Congressional District in Congress," 49-year-old Bera said in a statement.
Re-election of Bera, who was elected for the first time in 2012, has its own significance given that it was considered to be a Republican wave.
Not only this, Republicans had pumped in quite a substantial amount of money against Bera and that his challenger was a three-term Congressman.
"I want to make one thing clear: real success in life is not something to be demonised or looked down upon. No amount of TV or radio will ever change that," Bera said.
"With a good education, hard work, investing in your own future, and chasing your dreams – a person can achieve real success. I regret that one of the themes in this election appears to have been that successful people by the very nature of their success are unworthy of elective office.
"In fact, people who are successful in the private sector are exactly the people we want to step forward and run for public office," he said.
Former President Bill Clinton had campaigned for him and First Lady Michelle Obama had phone calls seeking votes in his favour.
Bera is only the third ever Indian-American to be elected to the House of Representatives.
Source: The Economic Times