The Indian American CEO of Chicago's Cook County Health and Hospital System has been appointed by New York Mayor Bill de Blasio as the head of the city's health network, the country's largest public hospital system.
Ramanathan Raju, a native of Madras, will be New York City's Commissioner of Health and Hospitals Corporation, a network that has a dozen hospitals, a health plan and more than $7.3 billion in revenue. The respected physician re-joins HHC after two years at the helm of Chicago's public hospital system,
In his new role, Raju will work to raise standards of care at HHC hospitals, deepen the agency's approach to providing primary and preventative care at the neighborhood level and implement progressive, community-based reforms. Raju's appointment must be ratified by the HHC board.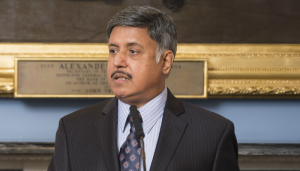 "We sought out progressive, proven leaders who are committed to serving diverse communities across this city. And in Raju, we found them," de Blasio said in a statement.
Raju's new posting brings him back to an organization where he had previously served as chief medical officer, corporate COO and executive vice president.
"I am excited to return to the Health and Hospitals Corporation. Under my leadership, the HHC will continue its mission of ensuring New Yorkers have access to quality health care options—from major hospitals to neighborhood clinics—no matter where they live," Raju, who has more than 30 years of experience in public and not-for-profit hospital systems, said.
Raju began his medical career at Lutheran Medical Center in Brooklyn, where he was promoted to the positions of director of surgery, director of medical education, and senior vice president. He went on to serve as the COO and chief medical officer at Coney Island Hospital.
As CEO of Cook County Health and Hospitals System, the third largest health system in the U.S., Raju is credited with improving CCHHS's quality of care, increasing revenues, and cutting costs by leveraging federal resources, restructuring the system's operation and utilizing technology to make the health care system more accessible to patients.
Raju received his medical degree from Madras Medical College and was a Fellow of the Royal College of Surgeons of England in the United Kingdom.
Raju is not the only Indian American serving in the new mayor's cabinet, reports PTI.
Rahul Merchant is New York City's first Citywide Chief Information and Innovation Officer and the seventh Commissioner of the Department of Information Technology and Telecommunications.
Merchant is responsible for the city's IT infrastructure, as well as oversight of the implementation of key technology initiatives.
Meenakshi Srinivasan is the Chair of the Board of Standards and Appeals, which is a part of the city's system for regulation of land use, development and construction.
"Dr. Raju is an outstanding choice," said Greater New York Hospital Association president Kenneth Raske. "His vast experience, deep commitment to caring for vulnerable communities, and keen understanding of New York's health care delivery system make him the ideal person to build on Alan Aviles' remarkable accomplishments and guide HHC through the many challenges that lay ahead."
As Health and Hospitals Corp.'s former chief operating officer, Raju helped implement a four-year cost cutting plan to deal with a $1.2 billion budget deficit. Those skills again will be tested. The Health and Hospitals Corp. faces deep cuts in Medicaid and Medicare.
Source: IndiaWest