Sanjay Mehrotra, the Indian-American Chief Executive Officer of SanDisk, leading maker of flash memory devices, has been named the 2013 CEO of the Year by the Entrepreneurs' Foundation of the Silicon Valley Community Foundation (SVCF).
"The 2013 Powered by EF" CEO of the Year was given to Mehrotra as "a chief executive officer who demonstrates superior commitment to their corporate citizenship programme," according to the organisation's website.
"Mehrotra has always demonstrated a strong commitment to SanDisk's corporate philanthropy programmes," the citation said.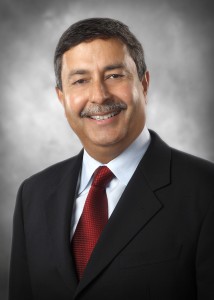 "In addition to his unwavering support as the executive champion for the programmes, Sanjay rallied his fellow CEOs to participate in Leukemia & Lymphoma Society's Corporate Cup Challenge, raising an additional $620,000 in corporate support, and increasing corporate participation by 30 percent," it said.
"On a corporate level, in the past year, Sanjay co-founded US2020 and committed 20 percent of the US SanDisk workforce to participate in the national STEM engagement programme."
"With his leadership, SanDisk launched its 25th Anniversary Celebration through Service, a year-long volunteerism campaign; in which Sanjay set the goal of 100 percent employee participation, and over $1.65 million raised in volunteer and cash matching funds.
"Lastly, Sanjay supported the creation of the SanDisk Scholars Fund, which will support underrepresented populations pursuing a STEM-related education."
Accepting the honour at an event in East Palo Alto, California, Mehrotra said: "Getting involved in our local communities through charitable contributions and employee volunteerism is a cornerstone of SanDisk's culture.
"I am so encouraged by the level of employee volunteerism and philanthropic support, especially this year, during SanDisk's 25th Anniversary; and I look forward to increasing SanDisk's philanthropic support in the coming years."
Four other companies were also recognised at the event this week. Microsoft was given the "Community Champions Award," Hewlett-Packard and the Taproot Foundation were joint recipients of the "Impact Award," Levi Strauss & Co. won the "Global Citizen Award," and StubHub was recognized as the organization's "Company of the Year."
Source: Manorama Online