Arogyaswami Joseph "Paul" Paulraj, professor emeritus at Stanford University, has been named the winner of the prestigious 2014 Marconi Society Prize, which brings with it a $100,000 award.
The Indian American professor's idea for using multiple antennas at both the transmitting and receiving stations — a concept at the heart of the high-speed WiFi and 4G mobile systems — revolutionized delivery of multimedia services for billions of people, the Marconi Society said.
"Paulraj's contributions to wireless technology and the resulting benefit to mankind are indisputable," said Marconi Society vice chairman Vint Cerf in a statement.
"Every WiFi router and 4G phone today uses MIMO (multiple input, multiple output) technology pioneered by him," he added.
The Marconi Society, which celebrates its 50th anniversary this year, was founded by Gioia Marconi Braga. Each year it recognizes one or more scientists who — like her father, radio inventor Guglielmo Marconi – pursue advances in communications and information technology.
After graduating at the age of 15 at the top of his class in high school in India, Paulraj joined the Indian Navy, where he focused on weapons systems.
Self-taught in subjects including information theory and signal processing, he obtained a Ph.D. from IIT-Delhi for his work on non-linear estimation theory. In 1977, the Indian Navy assigned him to head a project to develop advanced sonar and his team pioneered APSOH, a sonar system used in the fleet service in 1983.
On a sabbatical from the Indian Navy, Paulraj joined Prof. Thomas Kailath's research group at Stanford, where he worked on a multiple-signals directions of arrival estimation problem. The solution he came up with, ESPRIT, led to a mini-revolution in the field, according to the Marconi Society.
Paul returned to India in 1986 and became founding director for three major labs in India. Back at Stanford in 1991, he worked on signal separation experiments for airborne reconnaissance.
This led to his invention of spatial multiplexing, which increased throughput in wireless systems using multiple transmitting and receiving antennas.
Paul applied for a U.S. patent and, despite industry skepticism, founded Iospan Wireless, which developed a MIMO-OFDMA based fixed wireless system. Intel Corp. acquired Iospan's technology in 2003 and used it to spearhead WiMAX standards.
In 2004, Paulraj co-founded Beceem Communications, which developed WiMAX semiconductors. The company emerged as a market leader and was acquired by Broadcom Corp.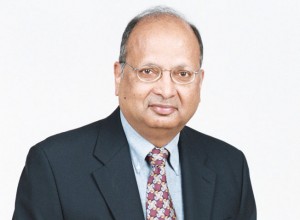 Marconi Fellow and Stanford Prof. John Cioffi said Paulraj's technical capability is "almost unparalleled in the world. But what impresses me most is how (Paulraj) endured the tremendous pressure, turmoil and stress of people saying his ideas weren't going to work, and persevered until he found success."
The 2014 Indian American Marconi winner said in a modest statement, "MIMO technology is today embedded in 4G mobile and WiFi. It has taken the effort of thousands of engineers and researchers around the world, many of them truly eminent, to make this happen. My contribution, in comparison, is indeed small."
Paulraj was elected to the U.S. National Academy of Engineering in 2006 and received the Padma Bhushan from India in 2010, and the IEEE Alexander Graham Bell Medal in 2011.
A mentor to post-doctoral students at Stanford and a senior adviser to Broadcom, he lives on the Stanford campus with his wife, Nirmala.
"I have two grown children and four wonderful grandchildren," he said. "My biggest challenge is finding time for all the things I want to do."
Source: IndiaWest