Recently, India welcomed the move of a U.S. court when it dropped the indictment charge against former Indian diplomat to the U.S. Ms. Devyani Khobragade. However, what was most appalling was that she was re-indicted for the same charges two days later. The latest ruling of the court continues to strain the diplomatic ties between the two nations.
Khobragade was arrested last December on grounds of visa fraud; she was accused of over-reporting the amount of money that she paid her housekeeper. She was handcuffed outside her children's school only to be arrested and detained in jail for a couple of hours. Despite maintaining her innocence, she was subjected to humiliation that the Indian government termed as 'despicable and barbaric'; on the other hand, the U.S. held on to their version that they were only following standard routine procedure. Following the arrest, it spiraled into a completely political and diplomatic standoffish yet heated imbroglio between the two nations.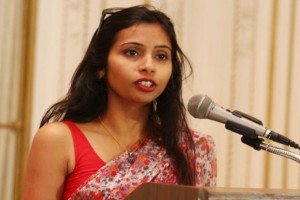 With the dismissal of the case, it is absolutely clear that no further arrest warrants would be made against Khobragade in future based on the same indictment. USINPAC has been at the forefront of this case since the very beginning. It had started from making enquiries about the arrest procedures to investigating the issue through members of Congress, and her immediate return to India. Mr. Sanjay Puri, Chairman of USINPAC has time and again pointed it out that an escalation between the U.S. and India would disrupt their process of working towards common goals and initiating dialogues in a troubled region; and 'that failure in diplomatic protocol can cause irreversible damage to US-India relations'.
Mr. Sanjay Puri has expressed displeasure saying, "Relationships between the oldest and largest democracy are built on a people-to-people relationship and not just strategic interests.  The United States is slowly losing the hearts and minds of the people of India through a series of avoidable incidents over the past year, including the clumsy manner of dealing with Mr. Narendra Modi, the Devyani episode, and most recently also the Wikileaks and Snowden revelations." He also said, "Any next steps are crucial to ensuring that US relations are not damaged any further by this incident, especially in advance of Indian elections next month. USINPAC believes the Manhattan US Attorney's Office and the State Department should not pursue this case any further since it gives the appearance of a personal vendetta and we intend to ask members of Congress to hold a hearing as soon as possible."
USINPAC as a bipartisan organization has been the voice of Indian Americans for over a decade now. By doing so, it has influenced policies that concern the community and this is yet another instance where they have left an indelible mark in impacting the framework to ensure that justice prevails at the end.