US Senator John McCain has congratulated Narendra Modi and his party on the resounding electoral success in the Lok Sabha elections and hoped to work with his government to revitalise bilateral relations.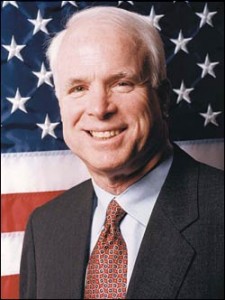 "I congratulate Narendra Modi and the Bharatiya Janata Party for their resounding success in India's election — an election that was, by itself, a powerful and inspiring demonstration of the vibrancy of the world's largest democracy," McCain said.
McCain, the Republican presidential candidate in the 2004 elections, said: "the successful rise of India as a prosperous nation and a democratic great power is fundamentally in America's national interest. I look forward to working with Mr Modi and his government to revitalise and expand the immense promise of the US—India strategic partnership."
Meanwhile, the popular Time magazine also lauded Modi on his spectacular win in the elections.
"Narendra Modi won India's national elections by a virtually unprecedented parliamentary super-majority, routing the ruling Congress Party," it said.
Source: The Hindu Business Line