A prominent group of journalists from India visited the USINPAC headquarters to understand and know more about the organization. The delegation was warmly received and hosted by USINPAC members. The event comprised of a session explaining in detail how USINPAC functions as an organization followed by a grand dinner.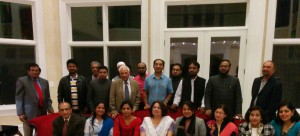 The purpose of the delegation's visit can be divided into the following points:
 To Demystify America and provide a first-hand glimpse of the United States to key opinion-makers in India's influential and booming vernacular press.
 Examine how the U.S. international affairs community is structured, by interacting with public and private sector representatives who are instrumental in the foreign policy cycle.
 Examine how policies are formulated and implemented under diverse and dynamic influences, by meeting with members of the Executive and Legislative branches to discuss decision-making dynamics.
 Explore the human rights component of U.S. foreign policy and the efforts of public and private sector organizations that address international and domestic human rights issues, by illustrating strategies used by NGOs and federal, state, and local governments to formulate and influence human rights policy in the United States.
To see the event in pictures, click here