Washington: Ending months of speculation, Louisiana Governor Bobby Jindal is likely to announce his 2016 presidential bid in New Orleans that will make him the first Indian-American to run for the White House even as he terms such categorization divisive.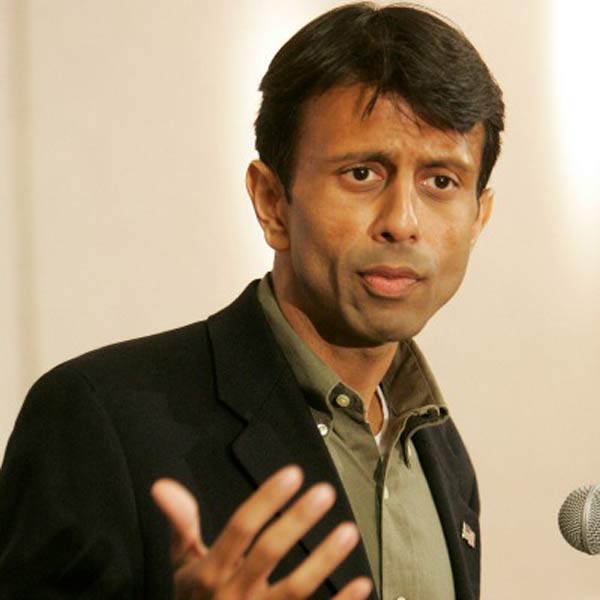 When he announces his presidential bid, 44-year-old Jindal would join 12 Republican contenders that include political heavyweights like Jeb Bush and Rick Perry.
His expected historic announcement late night Wednesday (US time), however, has failed to generate much enthusiasm among the Indian-Americans –- whose annual family income now crosses 100,000 per annum and is among the richest ethnic communities in the US — because of Jindal's recent statements in which he sought to distance himself from being an Indian-American.
Repeating his views, Jindal featured on the Federalist Radio Hour on Wednesday, and gave his perspective on the state of the union.
He expressed frustration that President Barack Obama has "been trying to divide us…by gender, by race, by geography, and by religion."
"We're not hyphenated Americans anymore. We're not African-Americans, Asian-Americans, Indian-Americans or rich and poor Americans," he asserted.
Pointing to his own melting-pot story, Jindal urged Republicans to call for an end to division.
Jindal, an Oxford-educated son of Indian immigrants, said the presidential contest remains "completely open".
He trumpeted the unifying leadership of South Carolina Governor Nikki Haley and Senator Tim Scott in the wake of the Charleston tragedy in which a white gunman claimed nine lives.
"What a contrast with our president going out last week trying to score cheap political points," Jindal said, adding that Obama was "trying to turn this into a political rather than a healing moment."
Once a rising star of the Republican Party, the two-term Governor of Louisiana lost most of his shine after his lacklustre performance responding to President Barack Obama's State of the Union Address in 2009.
In the past two-years, he has worked on his public appearances and has since delivered some impressive speeches.
In his state of Louisiana where he has ruled for nearly seven years, Jindal is highly popular. Tickets for the venue of his announcement in New Orleans have all been taken.
Over the last one year, Jindal has been making trips across the country, giving speeches and meeting people, listening to their concerns. In fact, he has come out with his own independent policies on almost all major issues including the foreign policy. A vocal critic of Obama, Jindal told PTI earlier this year had sought to improve relationship with India.
Jindal is the vice chairman of the powerful Republican Governors Association.
In the radio show, Jindal slammed Democratic rival Hillary Clinton, saying her presidency would "redefine the American Dream into the European nightmare."
"If I decide to announce on June 24th that I will seek the Republican nomination for President, my candidacy will be based on the idea that the American people are ready to try a dramatically different direction," he had said in a statement earlier this month.
"We don't need just small changes, we need a dramatically different path," said Jindal, who as a child changed his first name to Bobby, after a character in the Brady Bunch.
Jindal converted from Hinduism to Christianity as a teen, and was later baptised a Catholic as a student at Brown University.
Jindal would join 12 other Republican contenders –former Florida governor Jeb Bush, pediatric neurosurgeon Ben Carson, Texas senator Ted Cruz, former CEO Hewlett-Packard Carly Fiorina, South Carolina senator Lindsey Graham, former Arkansas governor and 2008 presidential candidate Mike Huckabee, former New York state governor George Pataki, Kentucky senator Rand Paul.
The other Republicans in the fray are former Texas governor and 2012 presidential candidate Rick Perry, Florida senator Marco Rubio, former Pennsylvania senator and 2012 presidential candidate Rick Santorum and billionaire real estate developer and television personality Donald Trump.
While 12 Republican candidates have thrown their hat in the ring, just four Democratic candidates have announced their presidential bids — former secretary of state Hillary Clinton, Vermont independent senator (caucuses with Democrats) Bernie Sanders, former Maryland governor Martin O'Malley and former Rhode Island governor and senator Lincoln Chafee.
Earlier this month Jindal signed his eighth consecutive balanced budget for Louisiana.
"And we did it without a tax increase," he told his supporters, indicating that governance and taxation is going to be another major platform to run for elections.
"When I ran for Governor of Louisiana, I made a promise to the people of this state that I would not raise taxes. I kept my promise. If you think it's time we had leaders in DC who keep their promises to the people that elected them, then stand with me," Jindal said.
Among the Republican presidential candidates, he figures towards the low end of popularity ratings. But an undeterred Jindal says he would run for the president if he is convinced that this is the best way to serve his motherland.
Jindal, if he decides to go ahead with his 2016 presidential bid, is expected to run on the plank of opposing the foreign policy of Obama, which he claims has given rise to extremism in the Middle East and Africa and made the US more unsafe and insecure.
Source: Firstpost