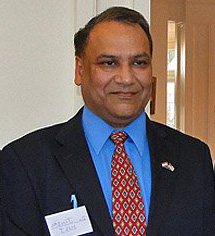 On November 13, 2013, Dr. Rahul Jindal – USINPAC Co-chair Healthcare Subcommittee was felicitated with the 'Outstanding American by Choice' award. This acclaimed award was presented by the U.S. Citizenship and Immigration Services at the Women in Military Service for America Memorial at the Arlington National Cemetery, US. Dr. Jindal is currently working as a staff transplant surgeon at the Walter Reed National Military Medical Center. He also works as a Professor of Surgery at the George Washington University, Washington, D.C.
Dr. Jindal has immensely contributed to the field of healthcare and he is known for his expansive work and knowledge in this discipline. He has achieved many 'firsts'; to name a few, he performed the world's first surgery to link a tube with blood vessels in the failing liver of a six-year-old boy. He set up a kidney transplant program in Guyana, South America. He has driven this initiative in other countries including Antigua and Trinidad and Tobago. He has also co-authored a book titled 'The Struggle for life: A Psychological Perspective of Kidney Disease and Transplantation' with Lyndsay S. Baines. This book serves as a textbook in dialysis and transplant programs and it throws light on psycho-social issues patients face during dialysis and post transplantation. At the Outstanding American by Choice award ceremony, he talked about the U.S' flair for attracting talent; he said, "Today's ceremony is a powerful affirmation of America's strengths, nearly half a million new citizens come every year from all corners of the world. We bring in new ideas and novel strategies to solve problems and ensure that the US will be ready for the next century."
Dr. Jindal is closely associated with USINPAC being Co-Chair Healthcare Subcommittee. He has hosted and spearheaded many of USINPAC's events where he has closely worked with several political leaders from both India and the U.S. He has been a driving force behind several social initiatives; in the recent past, he served as a coordinator of a major blood donation drive to mark the tenth anniversary of 9/11 coordinated by the HMEC (Hindu Mandirs Executive Conference). He is also member of the American Society of Transplant Surgeons and Physicians, International Transplant Society, and American College of Surgeons. We offer Dr. Jindal our heartiest wishes.