A top Indian-American executive at Citigroup has been appointed president of Standard & Poor's Ratings Services , the world's largest ratings firm.
Neeraj Sahai, 56, will assume his new role at S&P from January 6, 2014, financial intelligence company McGraw Hill Financial said in a statement in New York.
Sahai, who did his master's in economics from the University of Delhi, is currently head of Citi's Securities and Fund Services business and also acts as chief fiduciary officer of Citigroup. He succeeds Douglas Peterson, who became president and chief executive officer of McGraw Hill Financial on November 1.
Peterson has taken over as chief executive of the parent company earlier this month. Sahai has significant experience serving global capital markets.
His insights, leadership and background in driving growth, as well as in risk, control and governance will be enormously valuable to Standard & Poor's Rating Services , to market participants and to credit markets, Peterson said.
He added that as debt markets expand around the world to finance the increasing demand for development and infrastructure projects, S&P and its 1,400analysts would offer globally comparable measures of relative credit risk.
"I am eager to get started, to work alongside S&P's deeply talented employees and to build on the progress Doug and the management team have achieved," said Sahai.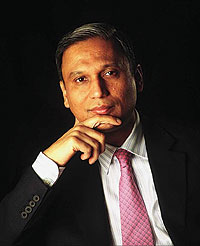 In his previous role at Citi, Sahai significantly grew the business, which offers securities services to investors, issuers and intermediaries.
From 2002 to 2005, he was chief financial officer of Citi's Global Transaction Services and before that has served in a range of other roles with Citi in the US and early in his career he held a number of positions of increasing responsibility with Citi in India.
Standard & Poor's Ratings Services, part of McGraw Hill Financial, is the world's leading provider of independent credit risk research. It publishes more than a million credit ratings on debt issued by sovereign, municipal, corporate and financial sector entities. McGraw Hill Financial's brands include the Standard & Poor's Ratings Services, S&P Capital IQ and S&P Dow Jones Indices.
Source: Business Today