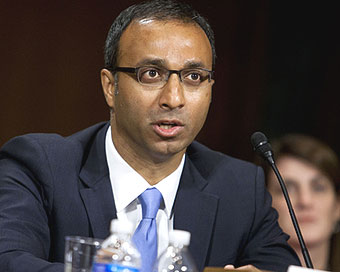 Indian-American Amit Priyavadan Mehta has been confirmed by the US Senate as a federal judge in the District of Columbia, becoming the first Asian Pacific American to occupy this important position.
His nomination was cleared late in the night by a voice vote along with over a dozen pending judicial nominations.
Nominated by President Barack Obama in July this year, Mehta has been a partner at Zuckerman Spaeder since 2010, where he represents clients in civil and criminal matters before state and federal courts.
Mehta is a graduate of Georgetown University, magna cum laude and Phi Beta Kappa, and the University of Virginia School of Law, Order of the Coif.
He clerked for Judge Susan Graber, U.S. Court of Appeals for the Ninth Circuit.
After clerking, Mehta worked at Zuckerman Spaeder as an associate for three years, and then worked for the Public Defender Service for the District of Columbia for five years.
He represented indigent criminal defendants in trials, appeals and administrative proceedings.
He later rejoined Zuckerman Spaeder, where he has represented companies and individuals in a broad range of federal criminal matters, including bribery, political corruption, mail and wire fraud, export control and sanctions violations, and environmental crimes.
Mehta also has represented plaintiffs and defendants in federal civil matters, including antitrust and a Securities and Exchange Commission enforcement action.
In a pro bono capacity, he has devoted more than 450 hours since 2010 to post-conviction proceedings for an individual convicted of murder.
He is also vice president of the board of directors of the Mid-Atlantic Innocence Project.
Mehta was born in India and moved with his family to the US at the age of one.
Source: The Tribune