Modi wants to make India 'easiest' place for business, promises stable tax regime
Even as Prime Minister Narendra Modi on Sunday claimed his government was committed to creating a policy and tax environment that was "predictable, transparent and fair", global and Indian companies committed themselves to investing a total of about Rs 2 lakh crore and creating more than 50,000 jobs.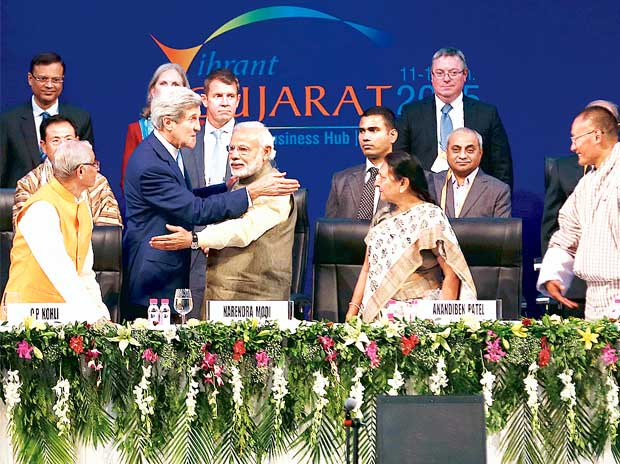 At the inaugural session of the seventh edition of Vibrant Gujarat Summit - the first time as India's prime minister – Modi said: "Ease of doing business is a major concern for the government and it is seriously working on these issues… We want to make India the 'easiest' place – and not easier than earlier – to do business in."
Investment commitments
Business leaders lined up huge investment commitments, signing 31 memoranda of understanding (MoUs) at Vibrant Gujarat Summit on Sunday. Reliance Industries Chairman Mukesh Ambani announced an investment of Rs 1 lakh crore across businesses in Gujarat over 12-18 months, while Aditya Birla Group chief Kumar Mangalam Birla promised to put in Rs 20,000 crore over a period to ramp up capacities across the group's various existing facilities.
The Adani group, which at the summit signed an MoU with Australian energy major Woodside for sourcing of liquefied natural gas and cooperation in oil & gas exploration and production, later said in a statement it, along with US-based SunEdison, would invest about Rs 25,000 crore to set up a solar energy park in Gujarat and create 20,000 new jobs.
Kalyani Group said it would invest Rs 600 crore in setting up a defence manufacturing facility at Dholera in Gujarat, creating employment for 2,500 people. Consumer durables major Videocon said it was planning to set up a 60,000-tonne-per-annum fibreglass plant in Gujarat at an investment of Rs 2,000 crore.
While Hong Kong-based China Light & Power Holdings said it was planning a 2,000-Mw coal-based power plant in the state at an estimated project cost of $2 billion (Rs 12,400 crore), Welspun Renewables announced setting up 1,000-Mw solar & wind energy capacities in Gujarat for Rs 8,300 crore. Wind turbine maker Suzlon had a day earlier committed itself to investing Rs 24,000 crore over five years to generate 3,000 Mw in the state.
Firms commit…
Countries like Bhutan, with a gross domestic product of $1.7 billion, pitched for attracting investments using the Vibrant Gujarat Summit (VGS) platform. Dressed in traditional attire, Bhutan Prime Minister Tshering Tobgay delivered one of the most engaging speeches during the inauguration ceremony. Highlighting his country's focus on 'Gross National Happiness' more than 'Gross Domestic Product', Tobgay said not only were healthcare and education free in Bhutan but the country was even working to achieve economic progress without destroying environmental balance.
Investment summit or global forum?
This year, VGS appeared to have turned into an event for networking among global thought leaders – a platform where issues of importance to the world as a whole were discussed. On a day when the event was attended by the likes of United Nations Secretary-General Ban Ki-moon, US Secretary of State John Kerry and World Bank President Jim Yong Kim, besides prime ministers of several countries like Bhutan and Macedonia, the winning topics of discussion were poverty eradication and clean-energy initiatives. Earlier in the day, PM Narendra Modi had set the tone by referring to the event as the biggest gathering on earth where a budding entrepreneur had the opportunity to see the president of the World Bank, and a young farmer could listen to the UN secretary-general's views on food security. "We are here as a family, not only in terms of space but because we recognise someone's dream depends on someone's direction. The objective is welfare of all," Modi said.
No impromptu speech this time
Modi was on Sunday speaking with help from a speech prompter, a technology he used at Vibrant Gujarat Summit for the first time. He carefully chose the language to address a global audience. "All of us want the planet earth to become a better place to live in," the PM said, adding he, having travelled across India and parts of the world, had noticed fluctuations in the global economy were the biggest concern today. Visibly not at his best in terms of oratory, Modi, who spoke in English, followed Kerry in expressing solidarity with the victims of last week's shooting at the Paris headquarters of satirical magazine Charlie Hebdo. During his speech, Modi spoke about the issue of inclusive growth by saying we would have to change the way we approached problems. "Recession is often seen only in the context of business and industry. Have we ever thought of recession as being the result of low per-capita income in countries where a majority of global population lives. Have we ever thought of its solution in terms of enhancing the common man's employability, income and purchasing power," asked the PM.
Praises galore
US Secretary of State John Kerry, who referred to Modi as a "visionary prime minister", said he had made Gujarat's name synonymous to "possibilities, change and energy". Hinting at the Vibrant Gujarat Summit platform's growing significance, the US secretary of state said it was indeed an "amazing opportunity" for him to speak before an audience that comprised 95 per cent of the people responsible for 95 per cent of India's gross domestic product. Inviting India to work together with the US, Kerry on Sunday said: "If we work united, I am sure the world's oldest (democracy) and the largest democracy can help forge a new era of shared prosperity and security, not only across Asia but across the world. We can end extreme poverty in our lifetime." The sentiment was echoed by Jim Yong Kim, who said while the World Bank group had a deep interest in promoting policies and projects to maximise sustainable and inclusive economic growth, it would not be able to "turn that dream into reality until India, a country of 1.25 billion people, follows a path of rapid economic growth that benefits all Indians". UN Secretary-General Ban Ki-Moon, who paid tribute to Sabarmati Gandhi Ashram, said: "I sincerely hope all leaders and people around the world will be inspired by Gandhi's visions and teachings." He said 2015 must be a year for global action. Commending Modi's initiative for smart cities and the vision on use of renewable energy efficiency, he said: "We should not only build industrial strength but sustainable inclusive solutions."
Vibrant Gujarat or Vibrant India?
In contrast to earlier editions, where Gujarat's chief minister would be the centre of attraction, this year's event emerged as a national one, where audio-visuals highlighting the Centre's several initiatives and achievements were shown in between the speeches. Gujarat Chief Minister Anandiben Patel's role on Sunday was reduced to only reading out the welcome address to delegates. Apart from speeches by some like Simon Smits, the Netherlands' vice-minister of foreign trade – who wore a saffron scarf and also spoke in Gujarati – the summit this year was definitely distinct from the previous editions in that most of the speeches were not reserved for praising the Gujarat model.
Source: Business Standard