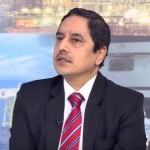 India is currently ranked 100th on the World Bank's "ease of doing business" scale, an impressive rise from its130th position in 2016. USINPAC interviewed Mr. Shashank Priya, an officer at India's Goods and Service Tax (GST) office, to discuss India's current ranking and to talk about the steps that are still needed for its continued improvement. Mr. Priya is one of the architects of India's recent tax changes, a primary component of India's rise on the ranking scale.
Mr. Priya recently attended a World Bank conference on the topic of improving a country's ranking. The World Bank assesses a country's "ease of doing business" on ten parameters. These are: Starting a Business, Obtaining Construction Permits, Getting Electricity, Registering Property, Getting Credit, Protecting Minority Investors, Paying Taxes, Trading Across Borders, Enforcing Contracts, and Resolving Insolvency. According to Mr. Priya, the Government of India has been working on reforms in every parameter. Some of the factors responsible for India's rise are the improvements that India made in procedures relating to starting a business and obtaining construction permits. In this regard, India has made doing business easier by providing for similar applications for procuring a Permanent Account Number (PAN) and a Tax Account Number (TAN), and by improving the online application system. For construction permits, India has streamlined the process by implementing an online system, thereby reducing the number of procedures required and the time involved to obtain a building permit.
As another step, India strengthened access to credit by adopting a new law on insolvency and amending the rules on the priority of secured creditors outside reorganization proceedings. For the payment of taxes, India introduced administrative measures that made it easier to comply with corporate income tax provisions and that allowed for payments to be made electronically to the Employees' Provident Fund. India also eliminated the Merchant Overtime Fee, typically collected for inspections of export cargo done outside office hours, thus reducing the time it takes to comply with import regulations. All these factors have contributed to bringing more multinational corporations to India, leading to improving its rankings as well as boosting its economy.
According to Mr. Priya, the major tax reform happened in July of 2017 when a new indirect tax, GST, was introduced across India subsuming the then existing 15 central and state taxes and a plethora of other charges. Before the implementation of GST, taxpayers had to maintain multiple accounts, file multiple returns, pay multiple taxes, and face multiple audits from different authorities. Mr. Priya explained that GST, in subsuming all these taxes, now needs only one CGST (Central Goods and Services Tax) and one SGST (State Goods and Services Tax) to be paid on each transaction. This system simplified the taxes for consumers and businesses and has made it easier to do business.
Although India has undertaken consistent efforts in the last four years to reform the business climate, there is still a lot more to do. According to Mr. Priya, one of the factors holding India's ranking down is the speed of the implementation of these reforms. He opined that "Reforms are to be carried out in a phased manner. There is a time lag between actual implementation and their appreciation by the majority of respondents." Even though all these reforms require time, resources and money, Mr. Priya underlined India's commitment to this process thus: "The implementation of reforms, whether of indirect or direct tax or new norms for registering companies or improving the environment for trading across the borders, are all aimed to improve the trade facilitation and business climate in India, which would help spur economic activity and investment. All this will help with the economic development of the country."
From climbing up the World Bank rankings to becoming the sixth largest economy in the world, India is continuously progressing. It expects its ranking to improve as a result of its sustained efforts and commitment.
About Mr. Shashank Priya:
Mr. Shashank Priya is an officer of the Indian Revenue Service and serves the Government of India as Joint Secretary in the Goods and Services Tax (GST) Council, a Constitutional body with the mandate to recommend all tax rates, laws and rules and regulations thereunder, to the Union Parliament and the State Legislatures. For the last three years Mr. Priya has worked in various capacities of GST, such as Commissioner, GST, Additional Director General, GST and now as Joint Secretary, GST Council. He has contributed to legislative activities relating to the GST like the Constitution Amendment Bill, the Model GST Law and the GST Rules. He has also prepared the GST training materials and put together outreach programs for the Central and State Government officers. He recently participated in the deliberations of the World Bank team on the Ease of Doing Business Report, particularly relating to the 'Paying Taxes' Section.
Mr. Priya has 30 years of work experience on matters relating to indirect tax and the World Trade Organization. He served as a Professor in the Centre for WTO Studies in the Indian Institute of Foreign Trade and dealt extensively with issues relating to the WTO and Trade Facilitation. He worked for five years in the Trade Policy Division of the Department of Commerce as Deputy Secretary/Director. In these roles, he has represented India in negotiations in the WTO Ministerial Conferences in Cancun, Geneva and Hong Kong as well as in numerous WTO Committee meetings. He was the prime negotiator for bilateral trade agreements with SAFTA, Chile, Mercosur and ASEAN. He also has worked in different fields of Customs, Central Excise and Service Tax such as Central Excise Division, Anti-Smuggling, Appraising, Vigilance, Export Promotion and Service Tax.
He has contributed articles on WTO issues in newspapers/journals like the Economic Times, The Hindu Businessline, and eSocial Sciences and is the author of two books, namely 'Review of Trade Policies of India's Major Trading Partners' and 'Trade Facilitation Gap Analysis for Border Clearance Procedures in India.' He has also authored a paper for UN ESCAP, Bangkok on 'Cross-Border Paperless Trade'. Mr. Priya currently resides in New Delhi.