US-India Bilateral Strategic Relations to Reach High Point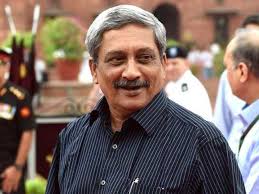 High level meetings are in full swing in preparation for Indian defence minister Manohar Parrikar's visit, to the US, this week. The visit will carry forward the Defence Trade and Technology Initiative (DTTI) as both countries work towards greater collaboration in joint development and manufacture of next-generation military technology.
Keeping the visit in mind, senior defence officials discussed common regional security interests, new ways to engage militarily and strengthen military to military ties at the 14th US-India Defence Policy Group (DPG) held at the Pentagon on Nov 18th. The meeting was co-chaired by US Under-Secretary of Defence for Policy Christine Wormuth and Indian Defence Secretary G Mohan Kumar. The meeting was the first after the Defence Framework Pact was signed during US Defence Secretary Carter's visit to India in June.
Kumar and Wormuth highlighted new opportunities for collaboration in areas of defence strategy, humanitarian assistance and disaster relief (HADR), and maritime security cooperation.
"Both emphasized their commitment to onward progress in defence cooperation in order to build on the positive momentum brought about through recent senior-level engagements," a senior Pentagon official said.
In a clear signal of India's importance, both as a major buyer and potential collaborator in the defence sector, Pentagon has established a first of its kind country special cell called India Rapid Reaction Cell (IRRC), to speed up defence ties between India and the United States. IRRC is headed by Keith Webster, Director, International Cooperation Office of the Under Secretary of Defence for Acquisition, Technology and Logistics.
The DPG meeting took place in the backdrop of escalating tensions over territorial claims in the South China Sea, as China develops artificial islands in areas claimed by several other South East Asian nations.
Washington believes there is strategic convergence between New Delhi's 'Act East' policy and its ongoing "re-balance" of military forces to the Asia Pacific. Parrikar's visit will focus on strategies to bolster maritime security, counter-terrorism and intelligence-sharing between the two countries. India so far has played neutral in the ongoing power play in the South China Sea, only insisting the need for free navigation in in international waters, right of passage and over-flight, and unimpeded commerce and access to resources.
During his US visit, Parrikar and his American counterpart Ashton Carter, will review the joint working group on aircraft carrier under DTTI as well as identify technologies that could be acquired by India on government-to-government basis and discuss possible programs under the 'Make in India' initiative.
There is also the issue of several contentious bilateral military agreements, held up by the previous UPA government that the US is keen for India to sign, these are the Logistics Support Agreement (LSA) and the Communication Interoperability and Security Memorandum Agreement (CISMOA).
Since the new NDA government signed a 10-year India-US defence framework agreement and joint vision statement for the Asia-Pacific and Indian Ocean Region earlier this year, Washington has renewed its thrust on these two pending pacts. The LSA foresees the two militaries providing support in logistics, refueling and berthing facilities for each other's warships and aircrafts on a barter or an equal-value exchange basis. CISMOA, on the other hand, is designed to be a "technology enabler" that will facilitate smooth transfer of high-tech avionics and electronics to India from the US. Another important agenda during Parrikar's visit will be to identify more military technologies for co-development and production under the bilateral DTTI.
Within the last 4 years, USA has already surpassed Russia, Israel and France to be India's top arms supplier, capturing 40% of the Indian defence market. Since 2007, contracts worth $13 billion have been inked. US is hopeful that Parrikar's visit will show progress in inking $3.4 billion worth of deals that are in the pipeline, including the purchase of 4 more P-81 maritime patrol aircraft, in addition to the 8 already inducted into the Indian Navy, 3 more C-17 Globemaster-III, strategic airlift aircraft, in addition to the 10 C-17s already inducted into the Indian Airforce and purchase of 145 pieces of M777 Ultra-Light Howitzers for the Indian army.
The M 777 howitzer deal worth $700 million with BAE, will not only equip the Indian Army with tremendous firepower, but under the deal BAE will shift its assembly integration and testing AIT facility to India.
This howitzer deal would give a major boost to Modi's Make in India as this could potentially make India the global hub for the M777 howitzers, with BAE planning to export guns to buyers in Europe, Africa and South America.
Under the DTTI, several albeit modest "pathfinder" projects have been finalized for co-development, ranging from mobile generators and NBC protection gear for soldiers while 2 mini spy drones and roll-on roll-off modules for C-130 J super Hercules aircraft are still pending. Parrikar, during his visit to the US, will be looking to identify further military joint development of jet engines and aircraft carrier design and construction technologies.
Currently, US and India is conducting at least 50 joint military exercises each year, which include counter-terror 'Vajra Prahar' exercises for the army, multi-lateral naval engagements in the Asia-Pacific region and a high voltage 'Red Flag' joint exercise with Indian air force scheduled for Alaska in 2016.
As a testament to India's growing importance as a strategic defence partner, Parrikar, in a first for an Indian defence minister, will visit the headquarters of the US Pacific Command (PACOM), based in Hawaii. PACOM is the biggest operational command of the US, overseeing almost 60 per cent of the US Navy, including six sea-borne aircraft carriers. According to US demarcations, PACOM oversees 52 per cent of the planet and is the Command in touch with 36 countries — including China, Japan, India, South Korea, Australia and Vietnam. Parrikar will be briefed on PACOM's operational issues and also its significance in tackling the onslaught of the Japanese imperial forces during World War II (1939-1945).
Parrikar is also expected to broach on India's displeasure at the US handing over advanced weaponry and technology to Pakistan, including the sale of advanced F-16 raptors and 15 Bell AH 1Z Viper attack helicopters to Pakistan. Pakistan foreign secretary Aizaz Ahmad Chaudhary recently said his country had developed tactical nuclear weapons to counter any Indian aggression, expanding its nuclear arsenal from 110 to 130 warheads.
In other developments, a US delegation met with the Indian defence ministry to seek clarifications on the 'Make in India' initiative. The delegation stressed upon an immediate implementation of the recommendations of the Dhirendra Singh Committee, which has submitted its suggestions on the defence procurement policy (DPP) to the ministry. Issues that were pressed included flexibility towards defining offset obligations, transfer of technology and consideration of engineering software as eligible service in offsets. Speaking earlier on Saturday, Parrikar said his effort are focused on bringing out a "perfect" DPP which will ensure that a deal is closed within three years as against the present day average of five years.
Defence ministry sources confirmed the meeting and added that the points will be conveyed to Parrikar ahead of his US visit and will be incorporated in the discussions.