Dr. Manoj H. Shah of Warner Robins, Ga., was sworn in last October as president-elect of the Medical Association of Georgia, the leading advocacy organization for physicians in Georgia.
He will take over as president for a one-year term in October 2014, succeeding Dr. William E. Silver.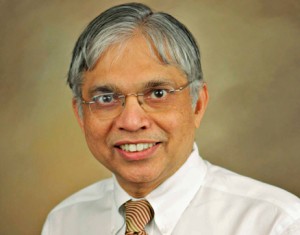 MAG was founded in 1849 and Shah will become the first Indian American president in the organization's history, he told one Indian American publication recently.
Shah has been active with MAG's international medical graduate section since it was formed in 2003. He also served in leadership posts with the Georgia Association of Physicians of Indian Origin.
The Indian American physician was trained in medicine in Baroda and completed his U.S. residency at the Henry Ford Hospital in Detroit, Mich.
Board certified in obstetrics and gynecology, Shah has published articles in the Medical Digest and other medical journals and has lived in Warner Robins since 1985.
He and his wife have three children who were education in the Houston County school system. Shah is also active with Friends of the Library and the Houston Volunteer Clinic.
Source: Indiawest