India currently stands as the best model of democracy and stability in South Asia. Pakistan has been unable to shake free of a history of Islamic extremism. Afghanistan continues to face daily domestic security challenges and serious obstacles to development. Bangladesh yet again appears to be in the throes of political instability, with Prime Minister Sheik Hasina's facing acts of violence from Islamist groups and activists affiliated with the opposition parties. Sri Lanka remains burdened with the difficulties that follow a prolonged and violent civil war. Of course, countries surrounding South Asia—such as Burma and Iran—face numerous challenges as well.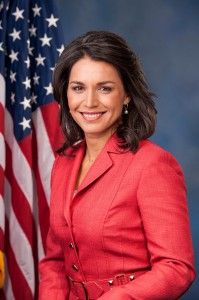 These realities must drive U.S. policy in the region.
Congresswoman Tulsi Gabbard (HI-2) understands this. From even before taking the oath of office, she has supported a stronger U.S. relationship with India because she recognizes that India is a friend in a region of the world riddled with unfriendly actors.
As a result, when some members of Congress cosponsored House Resolution 417—a bill that unfairly criticizes the Indian national and state governments' application and enforcement of religious freedom laws, particularly with respect to the 2002 religious riots in Gujarat—she promptly argued against it. This was the right decision. Rep. Gabbard stated about the United States and India, "It is critically important that we focus on strengthening the ties between the two nations, and I do not believe that H. Res. 417 accomplishes this."
It was particularly important that Rep. Gabbard pointed to India's rich history of allowing a litany of religions—including Christianity, Judaism, Islam, and Tibetan Buddhism—to prosper.
Rep. Gabbard concluded that "India is a democratic multi-cultural and multi-faith society, and shares many common values and strategic interests with the United States." She recognizes that the United States and India are natural friends and also that the former has much to gain from a good relationship with latter, stating, "I think it is critical the US and India have strong ties. A strong partnership with India will be a huge win for the US."
The U.S. India Political Action Committee (USINPAC) supports Rep. Gabbard not only for her advocacy of improved U.S-India relations, but also for a number of other reasons.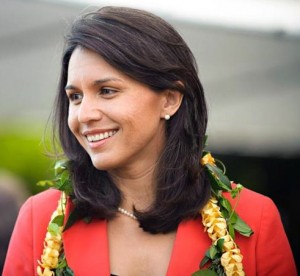 Most importantly, Rep. Gabbard has served America honorably, having enlisted in the Hawaii National Guard in April 2003 and deployed since then to both Iraq and Kuwait. She received the Meritorious Service Medal for her work during Operation Iraqi Freedom and an award of appreciation from the Kuwaiti military—the first woman ever to do so. Even now, as a Congresswoman, she is a Military Police Company Commander with the Hawaii National Guard.
By gaining valuable experience in the military, she has also been able to bolster the effort to fight for the right of women to serve in all military capacities, including combat roles.
Rep. Gabbard was one of the first two female combat veterans to be elected to Congress. Her current committee assignments in the House of Representatives include the Committee on Foreign Affairs and the Committee on Homeland Security. Through this portfolio, she has begun to strengthen her credentials in foreign policy and national security, issues which will only become more important as new global threats arise to challenge the United States.
USINPAC recognizes that Rep. Gabbard's continued presence in Congress is good for both the security of the United States and for U.S.-India bilateral relations, which include such areas as counterterrorism, defense, and trade. USINPAC supported Tulsi Gabbard before she was elected to Congress, and it will continue to support her during her time in office.