Arun Jaitley, the Leader of opposition in the Rajya Sabha has previously held the portfolios as the Union cabinet Minister for Commerce and Industry, and Law and Justice in the National Democratic Alliance government (1998-2004.) Born in New Delhi into a family of lawyers, social activists, and philanthropists he came into prominence as a leader of the movement against corruption, launched in 1973 by Raj Narain and Jayaprakash Narayan. A year later Jaitley contested and won the election to the post of the
president of the Delhi University student union, a prestigious win on sub national level. In an era where Congress Party had a stranglehold over university campuses Jaitley's election  as an Akhil Bharatiya Vidyarthi Parishad (ABVP) candidate marked a watershed in India's student politics.  He subsequently joined the BJP, having been earlier a member of ABVP, the president of the Youth Wing of the BJP and the secretary of its Delhi unit. During the 1998-1999 General Election, Mr Jaitley became the Spokesperson of BJP wherein he successfully positioned the BJP as the main protagonist against the ruling party.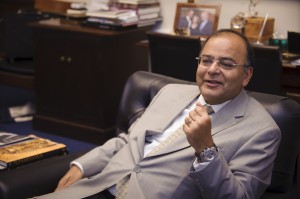 Mr Jaitley, made his first visit to the United States when he visited Washington from June 2011. He was accompanied by Lok Sabha Member of Parliament Janardhan Swamy and former Rajya Sabha member Chandan Mitra. Mr Jaitley met with several members of the US Congress, think tanks, and key members of the administration during this trip. He started his visit with an address at the Heritage Foundation on "Indian Foreign Policy — Priorities in a Shifting Global Landscape." He interacted with prominent lawmakers on Capitol Hill and stressed the growing strength of the U.S.-India relationship and its strategic nature, and the convergence on various issues between the two countries especially relating to terrorism and growth of trade. The co-chairs of the India Caucus in the U.S. Congress  Congressmen Joe Crowley and Congressman Ed Royce held a reception on behalf of the caucus for Jaitley in the Rayburn Congressional Building. Representative Crowley welcomed Jaitley, and said, "Mr. Jaitley's visit represents a great opportunity for the U.S. to continue building a strong relationship with India. In an increasingly globalized economy, it is important for the U.S. to continue to foster friendship with India, which is emerging as a leading growth economy despite the difficult economic landscape."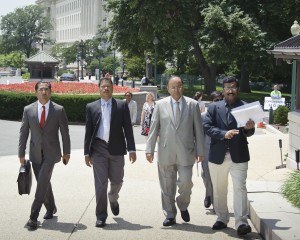 In his capacity as the leader of opposition in Rajya Sabha, Mr. Jaitley has been credited for his excellent oratory which is matched equally by his intense research into the topic and his ability to succinctly convey the message without being shrill.
However, being in the party since 1980 he never contested any direct election until 2014.He is the BJP's candidate for Amritsar for Indian general election, 2014. USINPAC wishes Mr Jaitley all the success in the Indian general election and his future endeavors.