The verdict is out. We have witnessed history being made. The citizens of India have given their mandate. It is after 30 years that a party has won the elections riding on the power of absolute majority. Clearly what no one had imagined, NaMo had foreseen. As the Congress nose dived to a crushing defeat, it was the turn of Bhartiya Janata Party (BJP) to smile their way to the bank.
The pundits had predicted a BJP win and all the experts had tipped Narendra Modi to become the next Prime Minister, but no one had imagined such a phenomenal margin of victory. Coalition governance which had become a norm for the last 2 odd decades was thrown out of the window as the voters took a dip in the NaMo wave and in turn ensured a phenomenal win for BJP.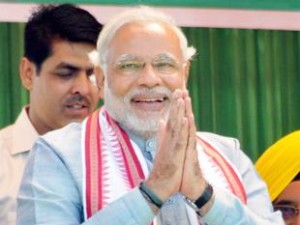 Giving its own twist to the election flavor was US India Political Action Committee (USINPAC), which came up with the innovative idea of conducting a series of trailblazing election calls with a series of election experts to give the Indian Americans a slice of what it feels to be in the midst of a great spectacle. Week after week experts of the ilk of Kanwal Sibal, Yashwant Deshmukh, Shahid Siddiqui, Madhav Nalpat and Jagdeep Chhokar amongst many others discussed their views and ideas about the Indian Elections. The calls were a resounding success and gave the Indian Americans a ringside view of the Indian Elections.
Carrying that trend ahead, USINPAC has now introduced a series of calls which would further analyze the post election fever and connect you to experts who will not just tell you what really happened, but will also help decode the cabinet. The calls will focus on who will form a part of the new cabinet under Prime Minister Narendra Modi, the different portfolios on offer and who are the most suitable candidates. The calls would also shed light on the impact of the elections and how Delhi would welcome a new government. USINPAC promises to bring you prominent leaders and a great panel of experts who will discuss in detail the road ahead.
With the first series of calls turning out to be such a raging success, the new series of calls are all set to witness an even better response. As Sanjay Puri, Chairman, USINPAC says, "After the BJP's thumping victory, the policy makers, businessmen, and investors would keenly be observing the next course of action which Modi's government takes. Like our last series of calls, through this initiative we aim to provide a better understanding of India to our U.S. members so that bilateral relations which are seeing a rocky present have a cooperative future."
This week the expert will be Dr Sudhanshu Trivedi who is the National Spokesperson for BJP & the Political Advisor to BJP President Rajnath Singh  . To register for the call, click here.