Also today: Liberal Leader Justin Trudeau defends his bid to make House financing more transparent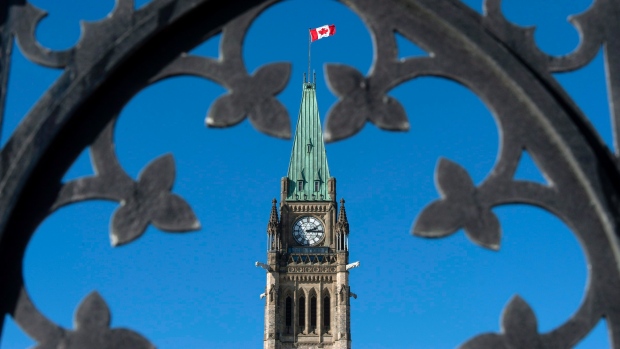 After spending much of last week hearing expert witnesses expound on the pros and cons of the government's proposed new anti-terror laws, the House public safety committee begins clause-by-clause review of the bill this morning.
Bill C-51 amendments seem unconnected to committee process
Anti-terror Bill C-51 to be changed as Tories respond to criticism
Bill C-51: NDP outlines plan to scrap 'dangerous provisions'
Although currently scheduled to run for four hours, the session may wrap up sooner, or — more likely — go longer, depending on the number of amendments put forward for consideration.
The government has already signalled that it intends to have Conservative MPs propose three changes — the most significant of which is removing the word 'lawful' from the section exempting protests from the new measures — while the New Democrats and Green Party have prepared their own motions, and Green Party Elizabeth May plans to bring forward 60 potential tweaks.
Meanwhile, Privacy Commissioner Daniel Therrien — who was not among the expert witnesses invited to share his thoughts on the anti-terror bill — will discuss "terrorist financing in Canada and abroad" withFinance committee members, who will also hear from various lawyers and academics – and, by video conference from Maryland, Anti-Money Laundering Association senior fellow Amit Kumar.
Elsewhere on the committee front:
Citizenship and Immigration Minister Chris Alexander takes questions on his bid to crack down on early and forced marriage, as well as polygamy amongst citizenship applicants, permanent residents and refugee claimants.
Veterans members get briefed on "upcoming commemoration initiatives."
The Procedure and House Affairs committee goes behind closed doors to discuss their ongoing review of the MPs' conflict of interest code.
Back in the Chamber, MPs will devote the day to discussing the government's efforts to make rail travel and transport "safe and accountable."
Later this evening, Liberal Leader Justin Trudeau will get his second — and likely final — opportunity to convince his Commons colleague to change the rules governing the secretive all-party Board of Internal Economy that oversees House administration and financing to require that it "open its meetings, with certain exceptions, to the public," and also updates the Access to Information Act.
After the debate wraps up, Trudeau will host a "question-and-answer session" for MPs on his proposal, which could go to a vote later this week.
Before that gets underway, however, Information Commissioner Suzanne Legault will unveil a special report entitled "Striking the Right Balance for Transparency," which will offer recommendations to "modernize" the Access to Information Act.
Also on the Hill today:
Former parliamentary budget officer Kevin Page teams up withCanadian Union of Public Employees president Paul Moistand the Canadian Health Coalition at the Centre Block press theatre, where the group will reiterate "the importance of the Health Accord in terms of the fiscal stability and sustainability of the health care system."
New Democrat MPs Charlie Angus and Romeo Saganash joinKashechwan First Nation Chief Derek Stephen to point out the "sub-standard dike" that, according to a new report, presents an "intolerable risk" of flooding within the community.
Canadian Vietnamese Association representatives explain their opposition to "hate-inducing and job-killing" Bill S-219, which would establish a Journey of Freedom Day to "mark the exodus of Vietnamese refugees and their acceptance in Canada after the fall of Saigon and the Vietnam War," which was introduced by Conservative Senator Thanh Hai Ngo — "a former supporter of the Saigon regime," according to the group — and is currently before the House heritage committee."
The Parliamentary Budget Office is also set to release a new report that investigates how much the federal government spends on child care, and "who benefits" therefrom.
Outside the precinct: Natural Resources Minister Greg Rickford"highlights recent measures" to support British Columbia's "energy and mineral potential" during a speech to the Vancouver Board of Trade.
Source: CBC News