US India Political Action Committee (USINPAC) as a bipartisan organization has always been known for its inimitable activities towards encouraging Indian-Americans to voice their political concerns for more than a decade now. It has achieved a lot for the community by representing and initiating relevant discussions on issues affecting the community leading to appropriate solutions. It has supported many deserving Indian-American electoral candidates in the past and not just Indian Americans, USINPAC has always supported candidates who have an inspirational record and Tulsi Gabbard is one of them. She happens to be the youngest woman in the U.S. to be elected to a state legislature, Hawaii. In 2012, she made headlines as she took the oath of office over a Bhagavad Gita that she claims happens to be her spiritual guide. Exemplary, inspiring, and motivating to a whole generation of Indian-American and multicultural youth, she currently serves as a Military Police Company Commander with the Hawaii Army National Guard.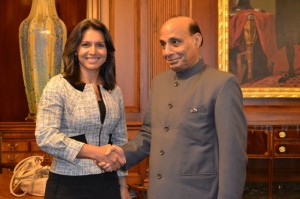 Looking at Gabbard's portfolio, it is simply exceptional and versatile. She is the first American-Samoan, the first Hindu member, and one of the first female combat veterans in the American Congress. Going back, in 2002, she first ran for Hawaii's 42nd House District of the Hawaii House of Representatives. She emerged winner in the general election defeating Republican Alfonso Jimenez. She represented the Oahu 42nd District. During this time, she became the youngest legislator ever elected in the history of Hawaii and the youngest woman elected to state office in the country. During her stint, she spearheaded the resolution of issues including dengue fever, medical waste, and the creation of jobs. In 2004, she moved on to volunteer for National Guard service in Iraq.
In 2012, Tulsi Gabbard decided to bid for the House. USINPAC has supported her right from the start of the campaign. She won the general election on November 6, 2012 by defeating Republican Kawika Crowley and her stance on the empowerment of women is well-known. She has been vocal about the state allowing women to serve in all military roles including combat. She has also served on two deployments to the Middle East. She is pro-affordable healthcare services that would reduce the risk of unwanted teen pregnancies. Another feather-in-the-cap among her many accomplishments is her support towards healthcare and education programs and initiatives for Native Hawaiians. What is truly laudable from Tulsi's contribution is her work towards relaxing outdated visa restrictions, especially concerning those from India and China.
Her father, Mike Gabbard is a Democratic member of the Hawaii senate and is a practicing Catholic of European-Samoan origin. She believes that her election gives hope to young American Hindus who 'can be open about their faith, and even run for office, without fear of being discriminated against or attacked because of their religion. Multi-faced Gabbard is also a martial arts instructor.
USINPAC supports Gabbard in the upcoming elections as she represents values, diversity, and synergy associated with the Indian-American community. It has in the recent past supported Dr. Ami Bera, Latha Mangipudi, Kamala Harris, Dr. Swati Dandekar, and several other stalwarts who have influenced the progress of Indian-Americans in public service. It supports candidates for federal, state, and local office who understand the concerns of the Indian-American community and address them on priority. With a robust network of people, ideas, and progress, it encourages participation from individuals from various walks of life. Therefore, come, join, and set a paradigm for your society to follow.