Surprisingly so much has recently been said about the Devyani Khobragade row, the proceedings of the imbroglio, and India's stand on it. What has really an anomaly to India's stance on their current position is their dual standards – on one hand, they have imposed certain restrictions on the U.S Embassy's staff in India while they continue to be the biggest importer of arms from the U.S. The U.S.-India partnership, the 'defining' partnership of the 21st century seems to be shrouded in an inexplicable scenario. The arms contracts between the U.S. and India reveal no competitive bidding or transparency. Adding to the quagmire of the diplomatic chaos, India seems to be getting into deeper dependency on arms from the U.S. And it is time to face reality, despite India's aspiration to become a major superpower; they have made no headway in terms of sustaining themselves on even the basics of weaponry.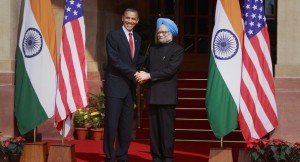 While India and the U.S. have come close to being partners, this partnership seems to focus mainly on buying arms from the U.S. India wants to project themselves as the bigger powerhouse in terms of nuclear weapons as compared to Pakistan. Or close to revealing a closer relationship with the U.S. would show India in a different light to China. This contract to supply arms to India has been going strong since President George W. Bush put an end to the ban on nuclear deals with India.
Amid all the diplomatic subtlety and the brouhaha, India does not seem to question the import of weaponry. Nor does the diplomatic situation show a relationship or partnership of equality no matter how much the U.S. talks about moving towards a long-term military relationship with India. A top military commander of the US Pacific Command, Admiral Samuel Locklear recently said while talking to journalists at a Pentagon conference, "I think, in the long run, India's role in security in a peaceful Indian Ocean is critical. We welcome that role." He added, "To the degree that India chooses to take on that role and to participate with us and with other partners in global security, with a central force on the Indian Ocean, this is a good thing."
No matter how hard India tries to counter China by standing too close to the U.S., the U.S.' focus rests on China for their economic interests at the moment. Therefore, it is about time that India woke up.