Aditi Chattopadhyay was one of four Arizona State University professors who have been named Regents' Professors for their extraordinary scholarly contributions.
Chattopadhyay is an Ira A. Fulton Professor of Mechanical and Aerospace Engineering, School for Engineering of Matter, Transport and Energy, within the Ira A. Fulton Schools of Engineering, and the director of the Adaptive, Intelligent Materials and Systems Center at ASU.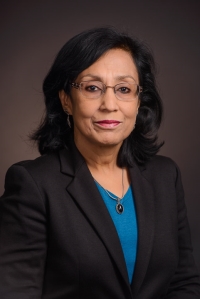 The Indian American and the other three awardees were honored Feb. 6 at an induction ceremony.
Chattopadhyay is an internationally renowned expert on composite materials, structural health monitoring, multidisciplinary design optimization and their application in a range of important problems central to the aerospace industry and a growing variety of applications in civil/structural industries.
Due to her achievements, she has been elected to the grade of Fellow in the American Institute of Aeronautics and Astronautics, the American Society of Mechanical Engineers and the Georgia Institute of Technology Hall of Fame. She has also received several NASA Tech Brief awards, which is among NASA's most prestigious awards.
Source: IndiaWest