Former Iowa state legislator Swati Dandekar is mulling a bid for Congress in 2016 in Iowa's District 1, which includes Cedar Rapids and Dubuque.
If she decides to run, she would be the second Indian American joining what is expected to be a crowded field in the Democratic primary vying to unseat first-term Republican Rod Blum.
Ravi Patel, president of Burlington, Iowa-based Hawkeye Hotels, announced his candidacy for the 1st District seat in February (I-W, Feb. 27).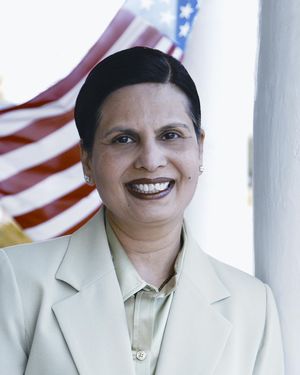 It would be Dandekar's second try for the seat. She resigned her post as a member of the Iowa State Utilities Commission to run for Congress in the Democratic primary in 2014.
In a five-candidate race, she received 18.3% of the votes, trailing the eventual Democratic nominee Pat Murphy and Cedar Rapids Councilwoman Monica Vernon, who received 36.7% and 23.6% of the ballots, respectively.
Murphy lost to Blum in the general election in 2014 by the narrow margin of 51.18% to 48.7%.
Blum voted against John A. Boehner for speaker on his first day in office, so he may get lukewarm support from the Republican leadership in his reelection bid.
Vernon has announced her candidacy again to run in the June 2016 primary and former Iowa governor Chet Culver, a Democrat, is also considering running for the seat, the Des Moines Register reported.
Dandekar told India-West, "I am doing my homework, talking to my friends and I feel very positive on what I am hearing."
She pointed out that the district has a five percent registration edge for the Democrats. In 2012, President Barack Obama won the district with 56%.
"I am talking to people about my agenda, which includes education — which has been my passion — creating manufacturing jobs and immigration." She said she supported the immigration bill passed by the U.S. Senate last summer and is preparing position papers on jobs creation, education and other issues of concern to Iowans.
Dandekar served in the Iowa House of Representatives from 2003-2009 and in the Iowa state Senate from 2009-2011.
She has been talking with the Democratic leadership and will make her decision by this summer, she said. What she has been hearing so far is all positive, she added.
Source: India West