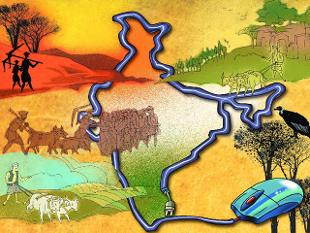 WASHINGTON: A group of American academicians today backed Prime Minister Narendra Modi's 'Digital India' campaign asserting that it heralds a new era of participatory democracy and enhances transparency, weeks after prominent US-based academics raised privacy concerns over the project.
"We welcome, Prime Minister Modi's support for the Digital India initiative that heralds a new age of participatory democracy and enhances transparency in governance in India, leveling the playing field for vast numbers of India's citizens," more than 150 American academicians said in a statement.
Signatories include holders of prestigious endowed professorships, deans of schools and educators in engineering, medicine, business and the humanities from many of the most prestigious institutions in the US.
"We, the undersigned, as faculty representing diverse disciplines in the American academy, join fellow Americans in welcoming India's Prime Minister Narendra Modi to California's Silicon Valley on his inaugural visit there September 26-27, 2015," the letter said.
"We note that Prime Minister Modi's visit comes at a transformational moment in a relationship between the two largest democracies in the world representing 1.5 billion people–one-fifth of humanity," it said.
In the statement, the academicians recognised the indigenous talents of Indian scientists to develop the infrastructure to effectuate 'Digital India' and other initiatives predicated on technological advancements.
At the same time, the academicians hoped that Modi will seek partnership with American academic and business leaders with the expertise and experience to ensure that Digital India realizes its potential without imperiling India's privacy laws and individual liberties.
"We are encouraged by reports that 170 million new bank accounts have opened, accompanied by government-backed catastrophic insurance, bringing hope to the most needy in India. Tying these accounts into the Aadhar identity document program could give many citizens their first clear symbol of empowerment," the statement said.
The letter comes weeks after over 100 prominent US-based academics, most of them Indian-Americans, said that they were concerned that the Digital India's potential for increased transparency in bureaucratic dealings with people is "threatened by its lack of safeguards about privacy of information, and thus its potential for abuse".
"We acknowledge that under Prime Minister Modi, India's civilisational contributions of yoga, spirituality, religious pluralism, art, and music are enjoying renewed patronage and public acceptance globally," the signatories added.
Praising the 'Clean India' campaign, they said that as educators, they recognise that India is home to the largest youth population in the world, and success in improving basic facilities at over 400,000 government schools this past year, inspires confidence in Modi's commitment to education.
"We believe that partnerships in Silicon Valley and knowledge exchange with the American academy have the potential to offer solutions in educational entrepreneurship necessary to reach and inspire those 356 million young Indians and prepare them for the 21st century," they said.
Joining several prominent professors of engineering schools, having membership in prestigious societies such as the National Academy of Engineering, Executive Director of the American Society of Engineering Education Dr Norman Fortenberry provided a welcome letter on behalf of the society of over 12,000 engineers and 400 engineering institutions.
"We express our hope that your visit will further provide opportunities to enhance partnerships between ASEE member institutions in the US and Indian engineering and technological institutions, which will result in the engineering and technological skills development of the youth of India," Fortenberry wrote.