What then is common between former Indian Prime Ministers Rajiv Gandhi, Atal Bihari Vajpayee and Manmohan Singh? They have all addressed joint sessions of the Congress. And that surely is monumental and an occasion to cherish. With the confirmation of Prime Minister Narendra Modi's visit to the US, what one is looking forward to is simply an encore. Apart from his meeting with President Barrack Obama in the last week of September, this is the single most event which will give the relations between India and US a definite boost.
Now the relationship between Prime Minister Modi and US has seen its degree of friction and controversies over the years. The prime reason for the equation to go kaput was the visa issue. Mr Modi as Chief Minister of Gujarat did not have the required permission to visit US for almost a decade. And the prime reason for this little known law to stop him from coming was only ever used against one politician in the world and that unfortunately was Narendra Modi.
But now that the relations have seen an upswing and as the Modi victory campaign promised 'Acche din aane wale hai' , it's time to understand how can this association be taken to levels which are fruitful to both the countries. US India Political Action Committee (USINPAC) along with some other representatives of the Indian American community have come up with a unique proposal which suggests that the BJP-led Government should issue infrastructure bonds for the NRI community to tap the goodwill of the Indian diasporas.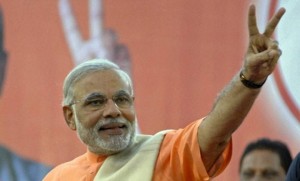 The announcement of the bond can be made by Prime Minister Narendra Modi on his visit to US. Sanjay Puri, Chairman, (USINPAC), said "USINPAC has had extensive discussions with top financial institutions in the US and members of the Indian diasporas in several countries on the market viability of the proposed bonds and have received an overwhelmingly positive response on the same. We have suggested that the infrastructure bonds can also be used to fund the ambitious Ganga conservation mission".
The USINPAC on its part has suggested naming the bond `Vibrant India Bonds' in order to leverage the brand awareness of `Vibrant India'. This goes in tandem with the 'Vibrant Gujarat' campaign with Modi had launched as the Chief Minister of the State and a `Vibrant Gujarat Global Investment Summit' that takes place every two years.
Coming back to the event of Modi addressing a joint session of Congress, USINPAC is working with members of US Congress to build momentum for an address by Modi. Over 40 Congressmen and 20 Senators have already informed the US Speaker of their wish to hear an address by him.
USINPAC is additionally working towards organizing a luncheon meeting with US Senators for Modi and a meeting with top US CEOs. As Sanjay Puri says' "It is only through such meetings that the US approach to tricky issues such as IPR, visa for professionals and supply of natural gas to India can be changed".
As a matter of fact, Vibrant India bonds can turn out to be the kind of idea for Modi's visit, like the US-India nuclear deal was for former Prime Minister Manmohan Singh. India's financial requirement which stands at $ 1.5 trillion can get a really big boost in terms of infrastructural needs and it is this endeavor which should do the trick.
The wait then begins…