Nisha Biswal's emergence on the political scenario has provided the much needed fillip to the Indian- American political dream. Her nomination as Assistant Secretary of State for South and Central Asian Affairs, which was personally recommended by President Barack Obama, brought cheers to the overall Indian- American community.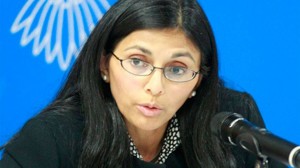 Ms Biswal is part of the Indian American community. Having roots to India, she is in a good position to understand the perception about USA in India and among Indian Americans. Indian Ameircans expect her to take a positive stand towards deepening Indo- US ties and her visit to India recently is considered a step in that direction. It is good to note that Assistant Secretary Biswal is reaching out to India Americans, taking their views and is willing to work closely to strengthen US-India relationship. USINPAC has supported these efforts in past and will always extend further support.
Earlier this year, as she arrived in Bangalore, Ms Biswal announced that the United States Agency for International Aid (USAID) will provide $2.7 million for increasing clean energy access to India. Supporting this she opined that, "I am pleased to be here to highlight this latest addition to the constellation of amazing cooperative opportunities between the United States and India to expand access to clean energy." During her stay, Ms Biswal also met High Indian officials in order to discuss the entire spectrum of bilateral and regional issues, including shared defense, security and economic engagement across Indo- Pacific corridor.
Her visit, which Washington had expected would to some extent mend frayed ties with India, came at a time when the Indo-US relationship has suffered setbacks, including on issues of trade and the Khobragade stand-off. It's the time of engagement where ideas need to be transcribed and translated and Ms Biswal believes establishing bilateral strategic partnership would go a long way in stabilizing the bond between the two nations.
After completing her Bachelor of Arts degree from the University of Virginia, Ms Biswal also worked at InterAction, the largest alliance of U.S.-based international humanitarian and development nongovernmental organizations, where she was the Director of Public Policy; and at the American Red Cross, where she served as an international delegate in Armenia, Georgia, and Azerbaijan. But it was at U.S. Agency for International Development (USAID) where her political career flourished. It was at USAID wherein she got the opportunity to work at the Office of U.S. Foreign Disaster Assistance and the Office of Transition Initiatives, and served as chief of staff in the Management bureau besides working with the USAID Administrator. But what brought her to the political limelight was her tenure as the majority clerk for the House Appropriations Committee Foreign Operations Subcommittee (HACFO) and as professional staff in the House Foreign Affairs Committee (HFAC), where she was responsible for South Asia.