Washington: A top American lawmaker has said Prime Minister Narendra Modi wants to focus India-US partnership on an ambitious strategic agenda.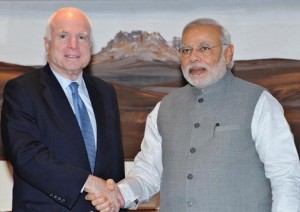 "It was my clear impression from meeting with the prime minister that he wants to focus our partnership on an ambitious strategic agenda," said Senator John McCain, who recently met Modi.
"That was certainly the impression we had as well in our conversation," Assistant Secretary of State for South and Central Asia Nisha Desai Biswal said in response.
A few days after McCain's meeting, Biswal accompanied Deputy Secretary of State William Burns to meet Modi in New Delhi this month.
"We think that we have a very strong opportunity in terms of the security cooperation and the defence partnership. The PM in his conversation with us talked about defence manufacturing as a key area that India would like to pursue. We think that there is scope and particularly the Indian budget did increase the FDI cap to 49 per cent," Biswal said.
She said with Burns they had a very good meeting with the Prime Minister, finance minister, external affairs minister and various other members of the cabinet.
"They have identified a desire for an increased US-India cooperation in infrastructure, in manufacturing, in the energy sector and certainly looking at the whole issue of skills and how we can improve access to education and skills in terms of the Indian population," She said.
Those are all areas where we think that American educational institutions and American businesses, American technology bring very significant added value, she said.
"We're looking to see how we can address some of those areas in more specificity as we look forward to the strategic dialogue and to the Prime Minister's visit here," she said.
Highlighting the two country's greater collaboration in defence and security partnership, Biswal said "we also are going to advance our ability to work together around strategic objectives in the region".
"Whether it's in terms of India's engagement in East Asia and working with us on issues of maritime security, whether it's in terms of India's engagement across South and Central Asia and the role that it plays," she said.
We certainly look to improve our relationship with respect to how we're working together to address problems in the region and across the globe, she said.
"I think that those are all areas that we need to strengthen the collaboration between our two countries," she said.
She said this was an important time to re-examine the US- India relationship.
"The historic elections this spring conferred an unprecedented mandate on Prime Minister Modi to create historic opportunity as well in energising our relationship with India," she said.
Source: ZeeNews