Neel Kashkari, a former US Treasury official and architect of the US bank bailout during the 2008 financial crisis, says he is running for governor of California with a pledge to create jobs and improve public schools. "Today, the gift of a good education and the opportunity it creates are out of reach for millions of struggling Californians…That's why I'm running for governor: To create jobs and give kids a quality education. Jobs and education. That's it. That's my platform," he said. He entered the race on Tuesday as a Republican newcomer who faces long odds against incumbent governor Jerry Brown, a Democrat.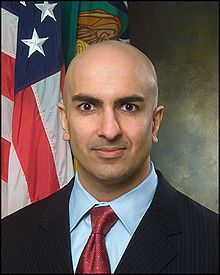 Kashkari, an Indian-American, made the announcement in a speech at California State University, Sacramento. He cited California's public schools and economy as his motivation for running, declaring that status quo is unacceptable. The 40-year-old first generation Ohio native has no political experience and has never before sought public office. He faces a formidable challenge in trying to unseat Brown, who is widely expected to run for another term and has $17 million in his campaign account. Right now, Kashkari's only Republican challenger is California assembly memmber, Tim Donnelly, a tea party favourite and staunch social conservative.
Kashkari's campaign team includes political consultants who advised Republican presidential candidates Mitt Romney and John McCain and former California governor Arnold Schwarzenegger. Kashkari's parents emigrated from India 50 years ago. The son of middle-class parents, Kashkari is a multimillionaire now and lives in Laguna Beach in Orange County. He earned bachelor's and master's degrees in engineering at the University of Illinois and moved to California in 1998 to work as a design engineer at TRW in Redondo Beach. He later earned his master's of business administration from the Wharton School at the University of Pennsylvania and returned to California to help Silicon Valley entrepreneurs raise capital to grow their companies and create jobs. He was appointed to the Department of Treasury in 2006 by then Republican President George W. Bush. "When the financial crisis erupted, he worked to bring together lawmakers from both parties to write and pass landmark legislation to prevent widespread economic collapse," his website claims. Last year, Kashkari quit his job as an investment banking executive and began travelling across the state and mulling his run for governor, meeting with potential donors, community organizations and regular Californians, according to Mercury News.
Source: Hindustan Times